Rodeway Inn Alamosa
37.4732899999999

,

-105.854308
63US$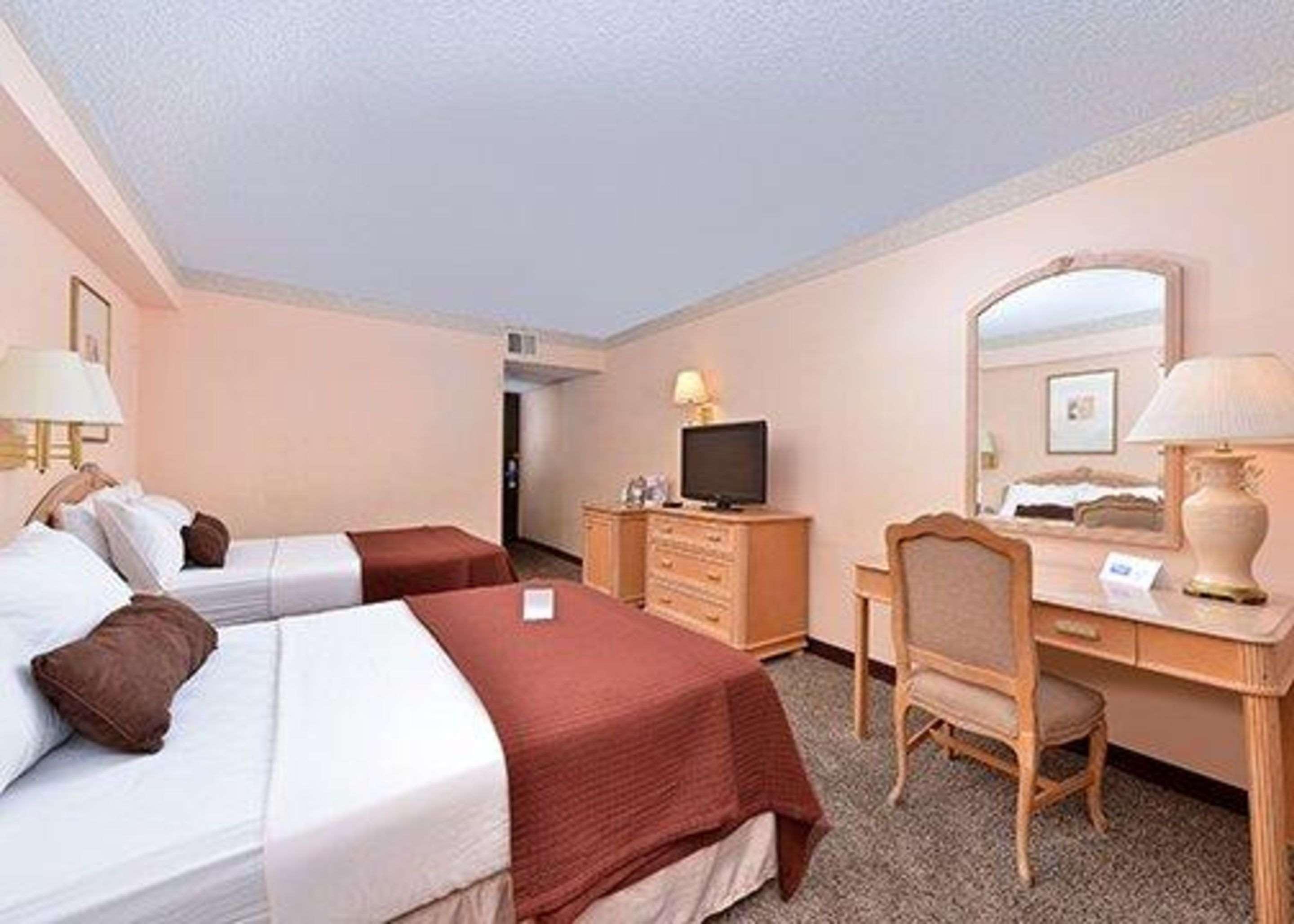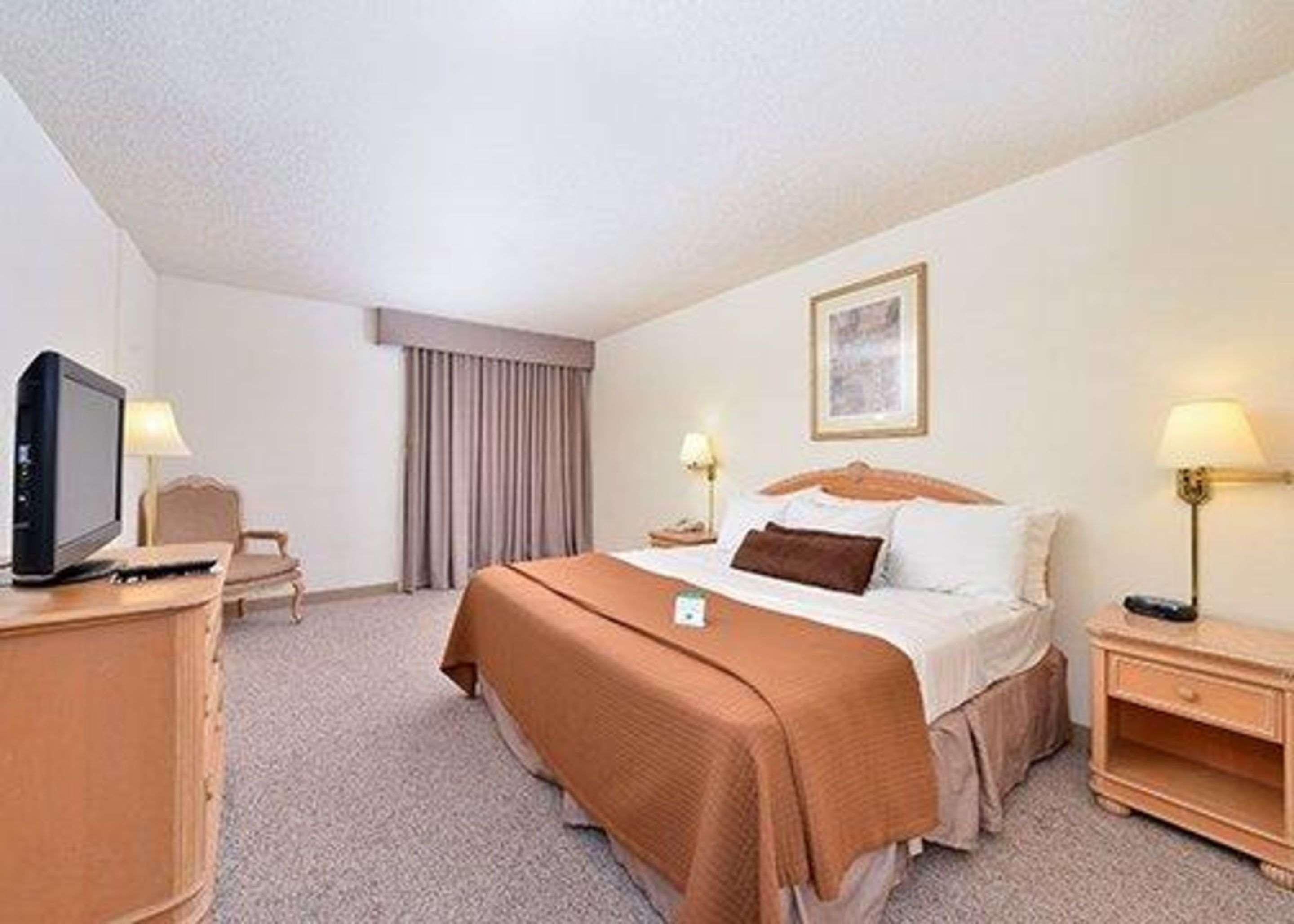 Address
333 Santa Fe Ave.
,
Alamosa
,
Colorado
,
United States
,
81101
, Colorado
Overview
The 2-star Rodeway Inn Alamosa offers 125 rooms within 16 minutes' stroll from the community Rio Grande Farm Park. For business travelers, a xerox, banquet and meeting facilities are available on request.
Location
Rodeway Inn Alamosa is a great place to stay due to its prime location in Alamosa. The historic Mission Revival-style St Thomas Episcopal Church is 1.8 miles from this family inn, while San Luis Valley Regional airport is 0.5 miles from it. Guests can find San Luis Valley Museum in about 16 minutes of walk.
Alamosa - Loaf N Jug - Westbound bus station is located 5 minutes away from Rodeway Inn Alamosa on foot.
Rooms
There are air-conditioned rooms at this accommodation, some of them feature wireless Internet as well as en suite bathrooms fitted with a bath and a shower. Also, there is a tea/coffee making equipment and an iron with ironing board as well as smoke detectors and an electronic key card provided.
Eat & Drink
A made-to-order breakfast is available every morning. The snack bar is complemented by billiards and lounge. Nino's Mexican Restaurant treats guests with Mexican and Southwestern meals and lies nearly a 10-minute ride away.
Leisure & Business
Guests with children can use a playroom and a play area available on site. Guests can work out in a fitness center during their stay. There is a meeting room and a business center available for corporate travelers.
Internet
Wireless internet is available in the entire hotel for free.
Guest Parking
Public parking is possible on site for free.
Year renovated:   2010.  Number of rooms:   125.
Former name: Inn of the Rio Grande
Facilities
Most popular facilities
Food/ Drinks
Bar/ Lounge area
Restaurant
Snack bar
General
Wi-Fi
Parking
24-hour services
Food/ Drinks
Fitness/ Gym
Swimming pool
Laundry
Sports & Fitness
Fitness center
Golf course
Pool tables
Table tennis
Dining
Breakfast
Restaurant
Snack bar
Bar/ Lounge area
Business
Business center
Fax/Photocopying
Children
Children's play area
Game room
Spa & Leisure
Indoor swimming pool
Leisure/ TV room
Room view
Sea view
Garden view
City view
Mountain view
Pool view
Landscape view
Room features
Air conditioning
Heating
Tea and coffee facilities
Ironing facilities
Media
Flat-screen TV
AM/FM alarm clock
Good to know
Check-in
from 15:00-23:59
FREE
Check-out
until 11 am
FREE
Children & extra beds
Maximum capacity of extra beds in a room is 1. 
Pets
Pets are allowed on request.
Rooms and availability

Bed options:

Max:

3 persons

Bed options:

Max:

2 persons

Bed options:

Max:

4 persons
Location
333 Santa Fe Ave.
,
Alamosa
,
Colorado
,
United States
,
81101
, Colorado
City landmarks
Nearby
Restaurants
401 Hunt Ave
San Luis Valley Museum
4200 ft
Gallery
Firedworks Gallery
1.8 mi
Bueno High School Equivalency
2800 ft
Alamosa Parks and Recreation
3000 ft
Church
Alamosa Christian Church
4100 ft
529 Main St
Milagro's Coffee House
4200 ft
University
Adams State University
1.4 mi
San Luis Valley Baptist Church
1.3 mi
San Luis Valley Diabetes Study
1.4 mi
Church
Church of Jesus Christ of Latter-Day Saints
1.4 mi
Institute of Religion
1.4 mi
Garden
Japanese Memorial Garden
1.4 mi
University
Adams State College
1.5 mi
Church
Trinity Lutheran Church
1.5 mi
Church
St. Thomas Episcopal Church
1.8 mi
Church
First Baptist Church
1.8 mi
610 State Ave
Rio Grande Scenic Railroad
1.8 mi
Church
Sacred Heart Catholic Church
1.8 mi
San Luis Valley History Ctr
1.6 mi
Patriot University
1.7 mi
Church
First Christian Church
1.8 mi
Church
Alamosa Presbyterian Church
1.8 mi
Trinidad State Junior College Valley Campus
1.8 mi
3323 Main St
Kristi Mountain Sports
2.0 mi
First United Methodist Church
2.0 mi
Pinyon Flats Campground
2.1 mi
Little Medano Creek
2.1 mi
Park
Rio Grande Farm Park
1300 ft
Restaurant
Nino's Mexican Restaurant
1.9 mi
Getting around
Airports
San Luis Valley Regional (ALS)
2.5 mi
You can book a shuttle, once your reservation is complete.
Reviews
Joseph

Satisfied with the hotel, it's a fine base for staying in Alamosa. Lots of food at continental breakfast. Moreover, the free Wi Fi was available here. This venue is equal to 2 stars: )

James

The room we booked included a kitchen. It's 20 mins walk to the center. Also, this hotel was situated 2 miles from tourist destination like adams state university. Would definitely go back, the property met the purpose.

Chris

We visited that hotel before and we thoroughly enjoyed breakfast and food. Good size room.

Charles

Breakfast was good, nice bed. Decent base for vacation in Alamosa.

missing

location, location, location

leaky roof, general maintenance needs to be stepped up.

missing

Internet cuts in and out on a regular bases windows in room have no locks or screens which makes it a little sketchy when staying on ground floor

missing

missing light bulbs in room - refrigerator & microwave didn't work - beds were not made until we requested - no room service - grounds unkempt - front desk stated housekeeping has gone home so too bad.

missing

The quality of the hotel could be a lil cheaper.

Building little bit out of date.

missing

fun pool and family facilities/games/space, friendly service, near airport

missing

Staff was friendly and price was reasonable

Pool area was closed during available times for cleaning and my grandkids were disappointed

missing

This property was probably a holiday inn back in the heyday of vehicle travel and family road trips. I have to feel sorry for the place. Probably staffed by recovering addicts and managed by same, this hotel has more of an old-people home than not. Only one desk clerk, waited in line too long (he was nice and kind, but scripted and bland). The "swimming" pool was a community "fun" waterpark with dinosaur sculpture and water-slide, hardly conducive to a quiet dip with kids running around, and no place to swim. The treadmill was broken in the fitness room and there was no natural light in the room, facing inward toward the lobby. The decor was old, wallpaper peeling and grimy air-vents. The in-house restaurant was a county kitchen badly staffed, badly managed. I leaned against the long wooden booth wall divider and the whole thing almost tipped over disturbing guests all the way down the dining room. The lobby decor was abysmally depressing with easy chairs distributed everywhere- all of them empty -and reminding me of an old folks home. Wi-fi was sketchy and staff semi-harassed my son in the parking lot while smoking, not recognizing him as a guest. Sketchy people all around the hotel parking lot at night.

missing

everything the room was dirty cable did not work I was suppose to get $10 off my bill but did not

missing

The beds are comfy, not as hard as some.

A little short staffed maybe, didn't make up our room till late afternoons.

missing

Service was good

Looks like someone tried to break into room through screen, key did not work 2nd day went to desk just fixed did not ask for ID felt like security lacks.mold in shower. Electrical issues, lights strobing and lights dimming and taking several minutes to come back up. Felt like we were still in the 60's and 70's needs desperately updated

missing

The room cleaned and available when promised by noon. I had to wait until after 1:30 to get into a room
FAQ
How far is the city center from Rodeway Inn Alamosa?
Alamosa city center is reachable within a 20-minute walk from Rodeway Inn Alamosa.
What landmarks can I find in vicinity of the Rodeway Inn Alamosa?
During the stay at the Rodeway Inn Alamosa, guests may pay a visit to the defunct Rio Grande Scenic Railroad, which can be found within a 10-minute drive, or attend D&rgw 169 Museum (0.8 miles) and the historic Sacred Heart Catholic Church (2 miles).
Which airport is the closest to the 2-star Rodeway Inn Alamosa?
The closest airport to the 2-star Rodeway Inn Alamosa is San Luis Valley Regional airport (0.5 miles) and it is reachable with a 10-minute drive.
Is there parking at Rodeway Inn Alamosa?
Yes, Rodeway Inn Alamosa features parking lot available on site.
Can I have breakfast at the Alamosa inn?
Yes, guests can enjoy made-to-order breakfast provided by the Alamosa inn.
What time is check-in and check-out at the Alamosa hotel?
Guests of the Alamosa hotel can check in from 3 PM to 11.59 PM and check out from 11 AM.
How much does it cost to stay at Rodeway Inn Alamosa?
The price for a room in Rodeway Inn Alamosa starts at $57.
What payment methods are available in Rodeway Inn Alamosa?
At Rodeway Inn Alamosa guests can pay using Visa, Mastercard and American Express as well as other payment methods.
Which amenities are included in the rooms of Rodeway Inn Alamosa?
Every room at Rodeway Inn Alamosa includes a flat-screen TV with satellite channels as well as smoke detectors and an electronic key card for guests' security.
Is free internet provided in the hotel?
Yes, the hotel provides Wi Fi throughout the property free.
Is Rodeway Inn Alamosa equipped with facilities for disabled persons?
Yes, wheelchair access and rooms with facilities for disabled are provided at Rodeway Inn Alamosa for guests with special needs.
What is the cancellation policy in Rodeway Inn Alamosa?
Rodeway Inn Alamosa provides free cancellation.